VSSL
Regular price
Sale price
$70.00 USD
Unit price
per
Sale
Sold out
Share
VSSL | SKU: 01-121-00
You never want to have to use a first aid kit. But what's worse than needing to use one is not having one when you need it. For the VSSL First Aid, we selected the best medical products available to ensure you have exactly what you need, and it will perform exactly how you need it to. Even with over 45 different medical essentials inside, this compact first aid kit stows easily in your backpack, your car glovebox, your purse, your boat, or on your moto.
Dimensions: 9.375" x 2" Dia
Weight: 1.06 lbs
WHAT'S INCLUDED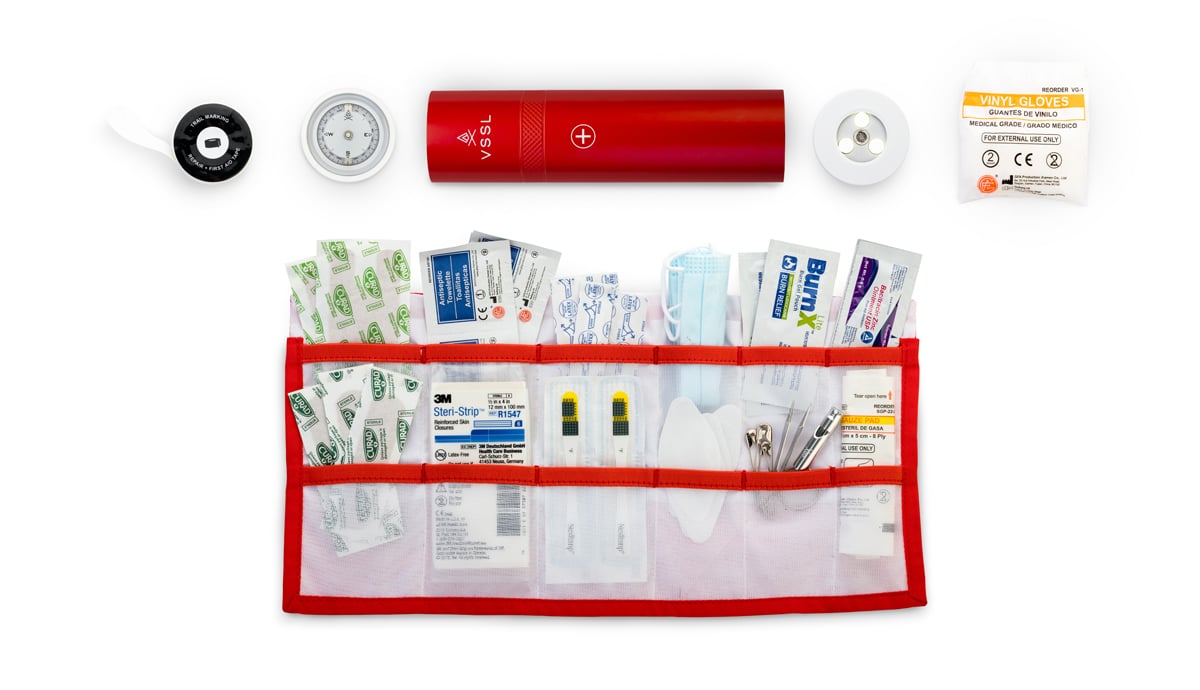 FIRST AID
4 large bandages
4 knuckle bandages
2 packs of 3-M Steri Strips
2 disposable thermometers
4 antiseptic towelettes
10 butterfly bandages
2 antibiotic cream packs
2 burn cream packs
1 non medical mask
1 gauze pad
1 pair medical gloves
4 blister pads
SURVIVAL
Oil-filled precision compass
4-mode LED Flashlight
Adventure Tape
ESSENTIALS
Emergency whistle
4 safety pins
Tweezers
EASY TO USE
Each first aid essential is packed into the pockets of a reusable fabric roll — meaning all you need to do is take it out of the canister, unroll it, and take what you need. No more digging through messy kits or unorganized boxes. Plus, our proprietary roll has a few first aid tips printed on the back, for those stressful moments when you need the reminder.
MULTIUSE
Each First Aid VSSL canister is equipped with a powerful LED flashlight capable of signaling SOS for up to 40 hours, a highly accurate compass, and a beadless whistle – each being able to execute critical and necessary action for first aid and rescue.
REFILLABLE
The First Aid VSSL is packed with the highest-quality med gear. Not just anything makes the cut here. But that doesn't mean you should be precious with your supplies. Use them. It's incredibly easy to resupply your roll with whatever you need 
View full details